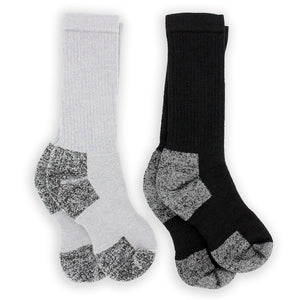 N.E.W. Rain or Shine Alpaca Boot Socks
Regular price $28.00 Sale
Sock design Done Right.
Knit with a fine hosiery yarn, this sock has increased density to improve thermal properties, overall fit, and durability without adding excess bulk.
✓ Pre-Shrunk Treated for Easy Care + Extended Life Span
✓ Alpaca Terry Loops hug your feet for all-day comfort
✓ FULL CUSHION coverage of your entire foot and leg, providing more insulation without the excess bulk
✓ Arch Band Support for a proper fit, all day and night
✓ Re-enforced where it's needed most
We've taken one of Mother Nature's most comforting fibers and combined it with the features you have come to expect in your favorite socks.
Fiber Content: 68% Alpaca, 32% Nylon
Care Instructions: Pre-shrunk treated for Easy Care and Extended Lifespan. Turn inside out and wash with a mild detergent in cool or warm water, tumble dry on low, or lay flat to dry. Alpaca is naturally odor resistant, so Wear more and wash less. Do not use Fabric Softener (It reduces Alpaca's natural properties), Do Not Iron, and Do Not Dry Clean.
Origin: New England Woolens Supply Chain
Knit in the USA (North Carolina)
with imported Peruvian Alpaca Yarn, the most advanced alpaca hosiery yarn currently being spun on the planet
Finished right here in Fall River, Massachusetts